BEVERAGE COASTERS AND MORE
WASHINGTON BREWERS GUILD (WBG)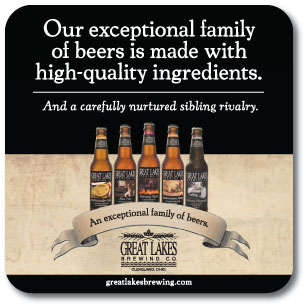 We print coasters like you make beer.
Passionate about our product. Independent and innovative. Uncompromised quality. Like you, we embrace the tenets of an artisan. We're proud to be the craft brewers coaster company.
And, we're proud to be able to offer our best direct pricing on our Gang-Run Program to the Beverage Industry. Choose from 2 sizes, 2 shapes and 3 stock weights (thickness) with full-color printing on both sides.
Also available as Custom-Runs (10,000 min.) in spot color(s) and single-sided printing—please call 1.877.423.2627 or email for pricing if your prefered combination is not in the pricing matrix.

Stock weights (approx.):
Light wt. = 40 pt. (thickness of a dime)
Medium wt. = 60 pt. (thickness of a penny)
Heavy wt. = 80 pt. (thickness of a nickel)
Please email your mailing address for samples.

Production turnaround: 2-3 weeks after proof approval (typical).
Made in the USA
SPECIAL WBG PRICING
Choose 3.5 or 4-inch circles or squares
| | |
| --- | --- |
| LIGHT WT. | 4-COLOR PROCESS, BOTH SIDES |
| 2,500 quantity | $290.00 |
| 5,000 quantity | $370.00 |
| 10,000 quantity | $710.00 |
| 15,000 quantity | $1,035.00 |
| 20,000 quantity | $1,210.00 |
| 25,000 quantity | $1,500.00 |
| MEDIUM WT. | 4-COLOR PROCESS, BOTH SIDES |
| 2,500 quantity | $310.00 |
| 5,000 quantity | $390.00 |
| 10,000 quantity | $755.00 |
| 15,000 quantity | $1,100.00 |
| 20,000 quantity | $1,280.00 |
| 25,000 quantity | $1,595.00 |
| HEAVY WT. | 4-COLOR PROCESS, BOTH SIDES |
| 2,500 quantity | $370.00 |
| 5,000 quantity | $470.00 |
| 10,000 quantity | $925.00 |
| 15,000 quantity | $1,375.00 |
| 20,000 quantity | $1,815.00 |
| 25,000 quantity | $2,240.00 |
| | All pricing is in US dollars. Pricing subject to change without notification. |
| Don't see the option or quantity you're looking for? | Please call 1.877.423.2627 or email sales@adcoasters.com |